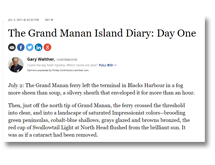 Next stop, Whale Cove Cottages, THD's home for the next 10 days. THD rarely forgets a face and the woman with Botticelli curls reading on the deck of the adjacent cottage looked familiar. "I've been here for two weeks and I have one more to go," she said, with a tinge of regret as if she had started re-entry into passing time. Turned out she was sitting on the same deck doing the same thing three years ago, when THD last stayed at Whale Cove Cottages.
She lives in New York City and so we exchanged locator acronyms (UWS and BKLYN). She's been coming to Whale Cove long enough to have earned elite status, drawn by the same elemental things that draw me: light, land, water. Here, time turns into rhythm: sunrise, high and low tide, sunset, the dotted whole note of a foghorn in the morning.
> Click here to read "The Grand Manan Island Diary: Day One"
> Click here to read "The Grand Manan Island Diary, Day 4: A Whale Cove Cottages Rhapsody"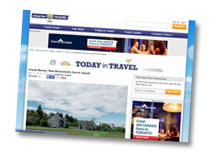 "Grand Manan Island sits just off the shore, at the point where New Brunswick meets Maine. And while it's within sailing distance of two of the world's largest countries, it feels like a world unto itself. The island's Inn at Whale Cove Cottages is the unhurried embodiment of this mostly undiscovered borderland.
Owned and operated by Laura Buckley, the Inn at Whale Cove Cottages beckons travelers seeking a taste of the island's rugged red and green cliffs and driftwood-adorned beaches. As Buckley will tell you, it's a place "for readers, nappers, and explorers."
Perhaps the highlight of the inn, though, is Buckley's incredible cooking."
> Click here to read the full review
April 2010 issue of enRoute, Air Canada's in-flight magazine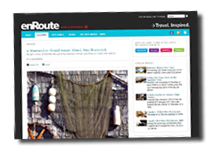 An annual pilgrim from Ontario lets us in on a secret: "The Inn at Whale Cove Cottages is the only game in town when it comes to fine dining." Indeed, chef and owner Laura Buckley makes us feel lucky her property is also our home for three days. (The lodgings range from Anne of Green Gables-style rooms to digs with such comfy amenities as a Jacuzzi and private patio.) When we head out, Buckley sends us off with lobster-salad sandwiches and chocolate-and-walnut brownies. At dinner, we devour a calamari salad so garlicky even Tony Soprano's mamma would approve, and a seafood risotto loaded with enough lobster and scallops to feed a family of four.
> Click here to read the full magazine article!
Where to Eat in Canada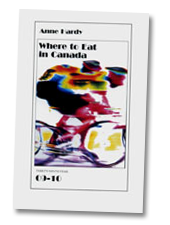 Whale Cove still has some of the faraway quality one used to associate with Grand Manan. The Inn is half a mile up the Whistle Road, a cluster of old buildings overlooking the sea. People have been coming here to stay for almost a century, and Willa Cather once owned one of the cottages. Laura Buckley and her mother Kathleen have renovated the kitchen and bedrooms and filled the sitting-room with antique Shaker furniture. Laura worked for years at the Compass Rose in North Head, and she brought their recipe for oatmeal bread with her when she left. When she's not making oatmeal bread she's making fish: gravlax, fillet of salmon in phyllo, seafood risotto with arboria rice and, in the early summer, bouillabaisse. (The gravlax is served either in the usual marinade or cured with salt, chili and spices in a coulis of wasabi and crème fraîche.) haddock, cod and pollock are on the menu when they can be had, pan-fried or poached with ruchetta and a tomato salsa. The greens, fruits and vegetables are all bought from local suppliers and most meals come with beautiful lettuce and fine French beans. The caramel pie is made with a rich, dark caramel, the mud pie has a rich brownie base, mocha-fudge ice cream and caramel. The Gourmet Food Shop next door is the only place on the Island where vegetarians can get things like homous, tabouleh and pita bread. It's open from 11 am to 5 pm every day but Sunday.